http://www.kellyskornerblog.com/
) started her "Show Us Where You Live Friday", I have been looking forward to playrooms because that is the room in our house that I am most proud of. Our house is one story with playroom/media room upstairs. When we first moved in, it was just a big, beige room, and I really brainstormed how I wanted to decorate and make the best use of space for such a big room.
So! Here's the playroom, which is one side of the upstairs area, from one angle: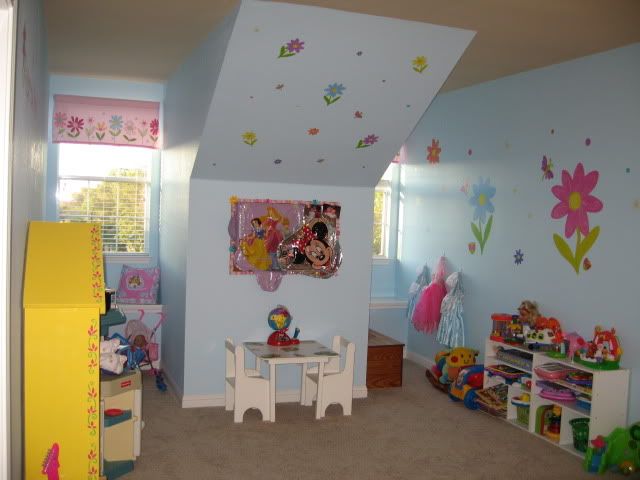 And here's the other wall:
I bought these wall letters from
http://www.wisedecor.com/
. You can choose your "saying", your font, your color, etc. Then, it's just peel and stick on the walls. Since I have two girls, this just HAD to be my phrase on the wall: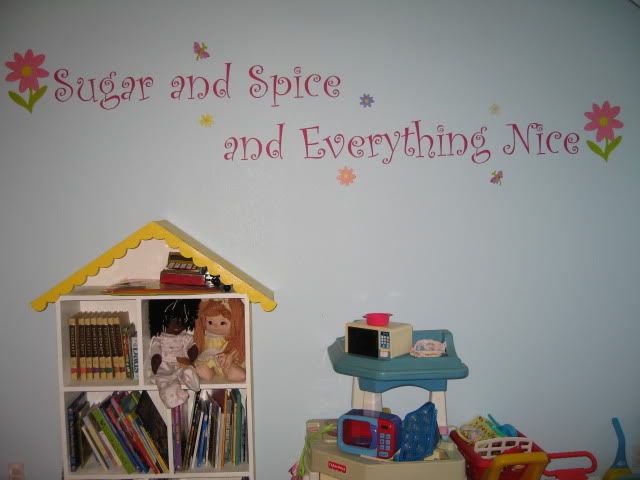 On the opposite wall, I bought these big flower stickers from
http://www.create-a-mural.com
.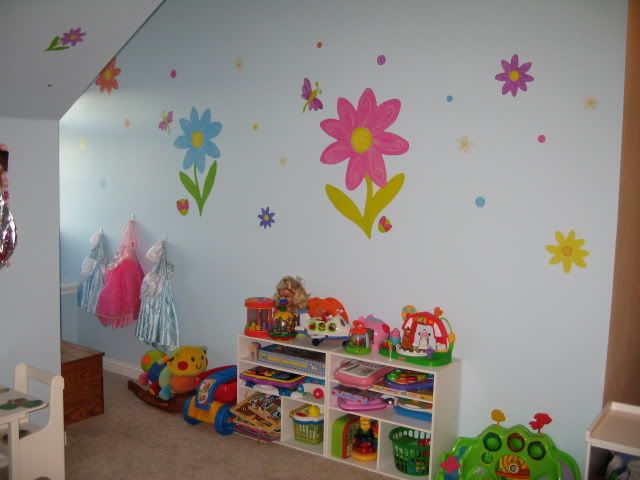 And on the middle part, I bought smaller versions of the same flowers from the same web site: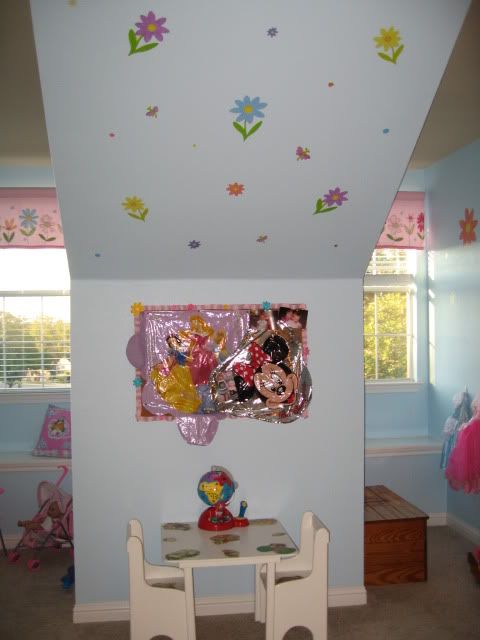 I love the little nooks. Got the window toppers from Pottery Barn Kids: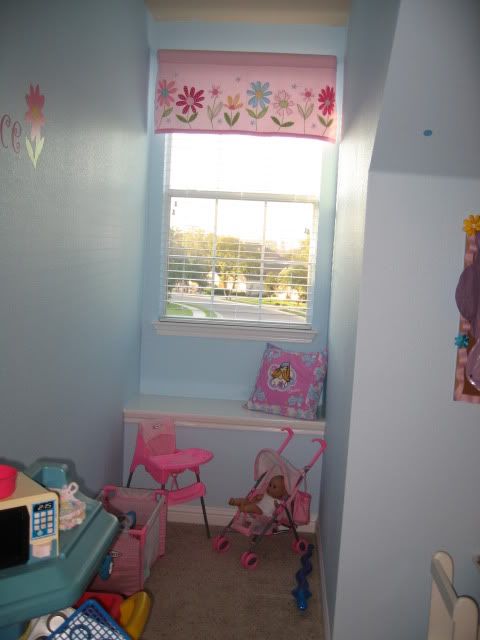 And to provide 1) separation of space 2) seating and 3) storage, I bought these benches with baskets underneath: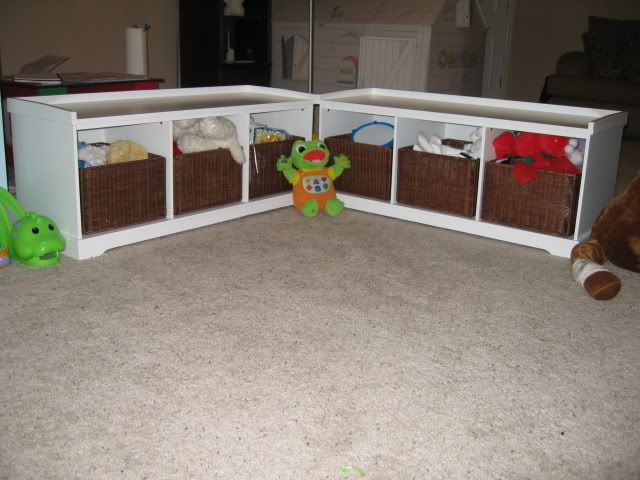 And then, this is the other side that will hopefully, eventually be a media room but at this point, we don't have a TV for the room. :)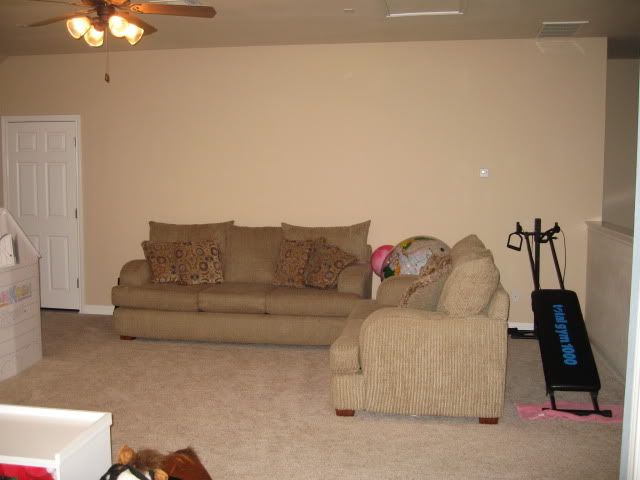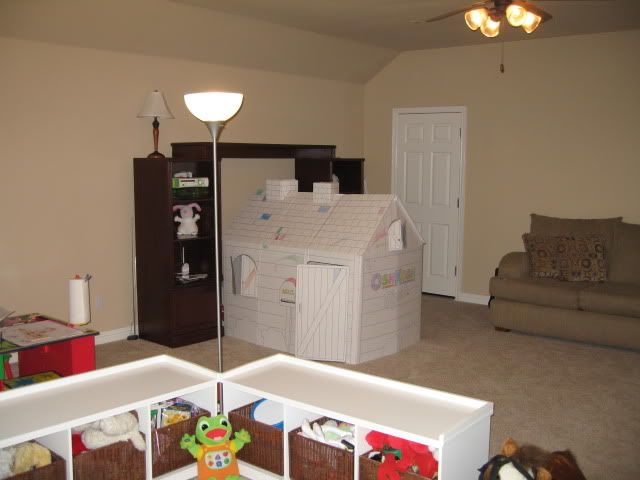 I found this cute art table for my girls: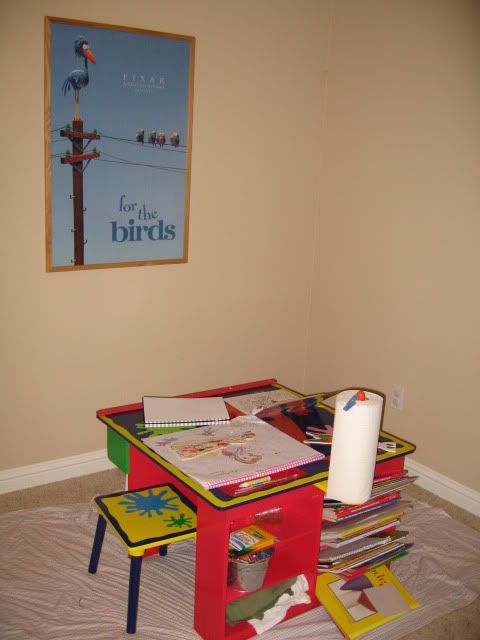 And my in-laws bought the kids this cute cardboard house that they can color on as well as play in:
I guess that's it! Thanks for looking around!
Ever since Kelly's Korner (
My oldest daughter, Susannah, is 4 and here is her room: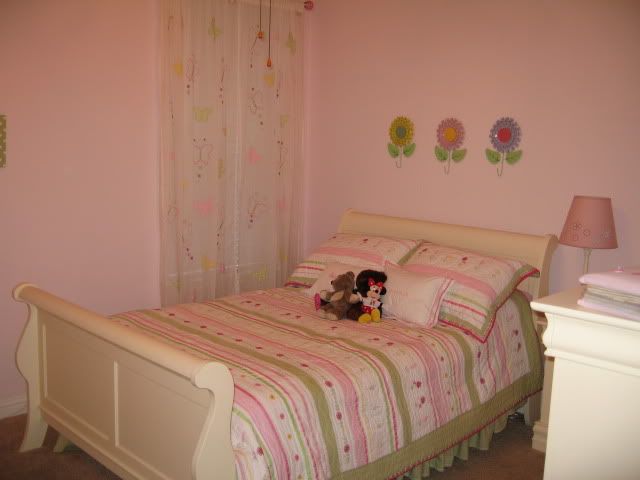 The walls are a light pink, the furniture is cream-colored and the bedding is primarily pink and green.
I love these name plaques - I bought them online somewhere but can't remember where.
The bedding is from Pottery Barn and most of the decorations are from Pier One Kids, which actually has very reasonably priced stuff.
Chest of drawers, lots of bows :)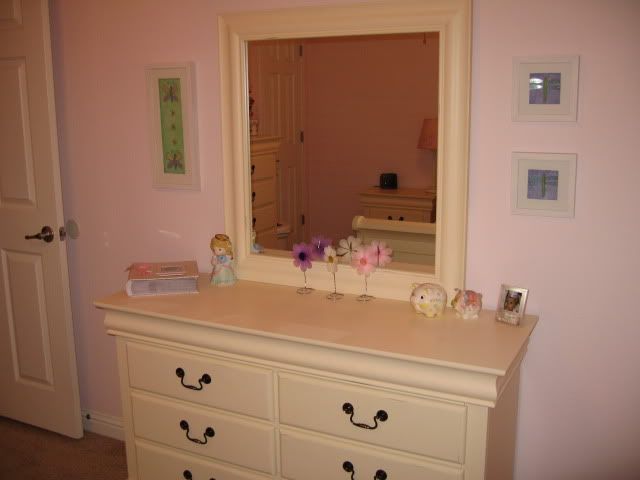 Dresser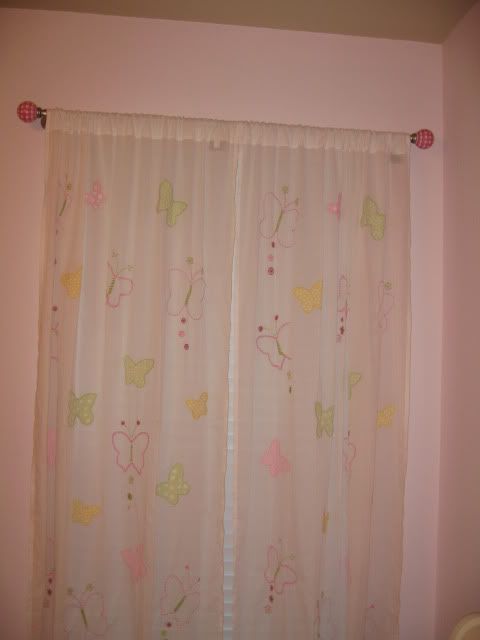 Window sheer
And my youngest daughter, Caroline, is two. She has the bedding that I used with both girls which is gender neutral because I didn't want to buy new bedding if my 2nd child had been a boy. I am looking forward to re-doing her room to something girlier in about a year. I'm thinking either ladybugs or cherries - thoughts? (I would keep her current furniture which has red accents).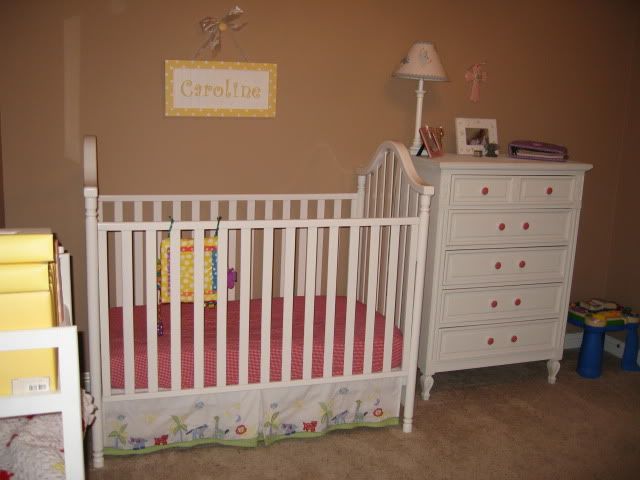 Caroline's room
Caroline's name plaque
Reading corner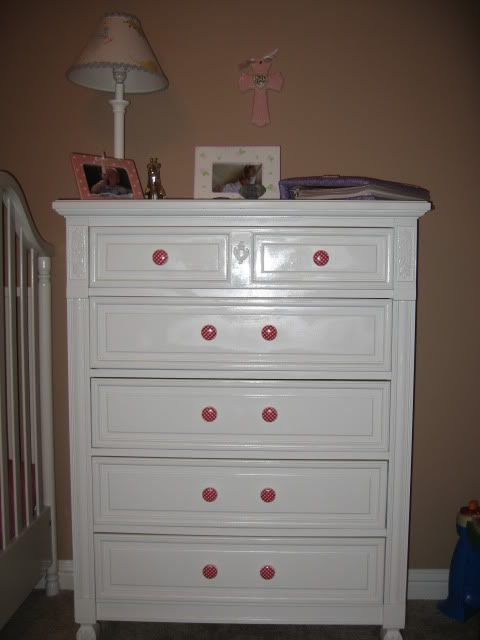 This was my furniture growing up and when I had it, it was painted cream with blue and orange flowers - totally 70s! lol We repainted it to white and I bought these red and white gingham drawer pulls on eBay.
I was really happy with how it turned out.
Bedding from Pottery Barn
Window topper
Thanks for stopping by!
Today is Children's Rooms over at Kelly's Korner!
Okay, let's go!
Red is my favorite color and so that is the color of our dining room - Behr Cherry Cobbler, to be exact.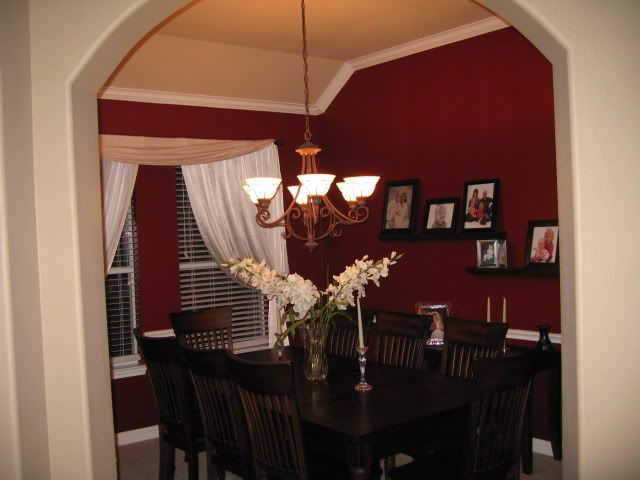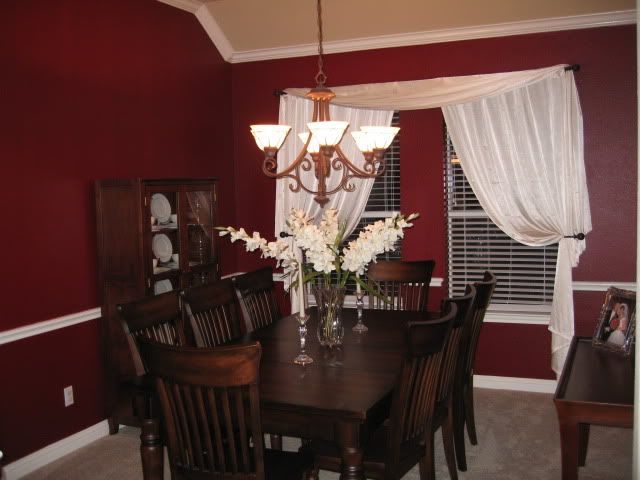 My picture of the photo wall didn't come out too well -- I need to update the pictures anyway!
I felt like I needed a very simple and elegant curtain since the wall color is so bold. I chose these white satin? silk? ones - I still am not 100% in love with them, but they work.
And then our China cabinet that houses the China we've used MAYBE twice in the 8 years we've been married. What a waste! If I could do it over again, we wouldn't even register for China.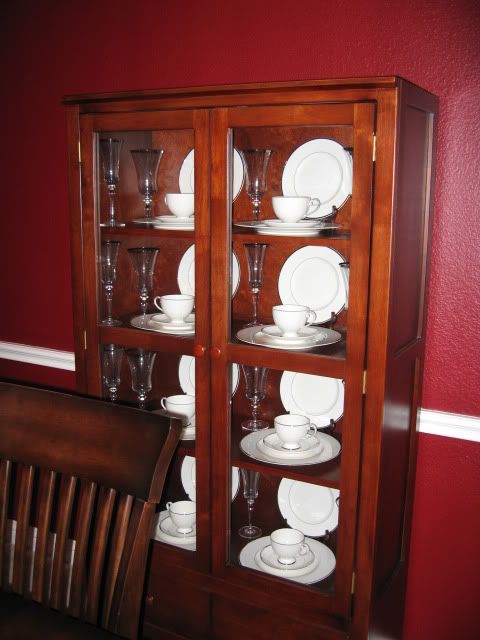 And this is from the back of the dining room looking toward the front door:
So, last week was guest bedrooms and I didn't get to participate because we were traveling, so I thought I'd post it today.
Our guest room is not my favorite, but it does have some sentimental items in it.
Here's the big picture -- the bed needs a bed skirt to hide the mattress.
So, my mom let me and my 3 sisters each choose a quilt that she had made. I chose this one because it was so bright and unlike a traditional quilt.
I made this mirror thingy to go over the bed by glueing flowers all the way around. Gosh, aren't I so crafty? ;)
I found this table at an antique store and really fell in love - thought I'd found a real "gem" that was probably worth lots of money and super old. I imagined the history it must have. After I bought it, I saw it in a cheap catalog for $29.99.
This is the rocking chair that my husband's mom rocked him in when he was a baby. I recovered the cushion myself (it was a wild parrot/jungle print) - I think it's really pretty!
And finally, there are some sentimental pieces in this corner shelf - a collage of some of my baby pictures, a photo of my youngest child, a picture that Aaron's mom took, and the hat at the bottom was the hat that my husband's grandmother used to wear working in the yard and she has now passed on.
Thanks for stopping by!
Today is DINING ROOMS! We have a formal dining room that, to be perfectly honest, is rarely used. But it's pretty and it's one of the first things you see when you walk in our house. We eat all of our meals in the breakfast room which I showed below in the kitchen tour.
The TV cabinet is never ACTUALLY closed but I wanted to make it look nice for the picture. We have two dark green couches and one maroon chaise. I like the color but the green couches haven't held up quite as well over time as I would like.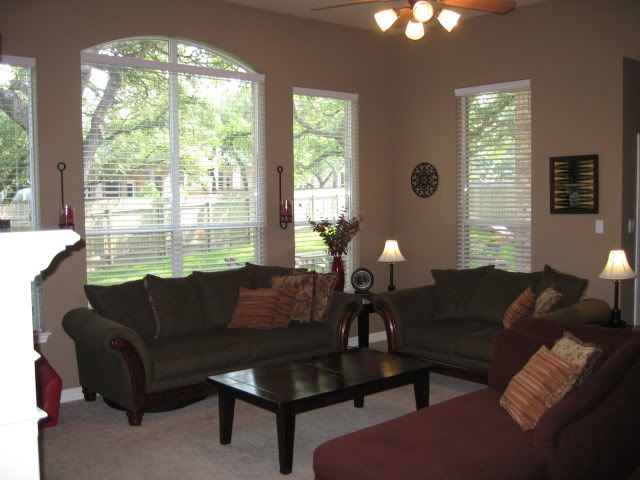 The other angle
I like our fireplace. I chose the chocolate brown paint for the fireplace when we moved in to make it more of a feature wall.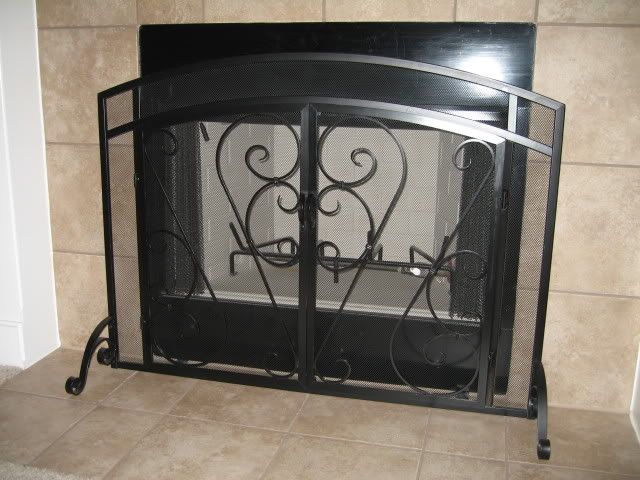 The iron fireplace screen was my Christmas gift to myself this past year. :)
This is Caroline's favorite little chair. It really isn't as scary red as it looks in the picture.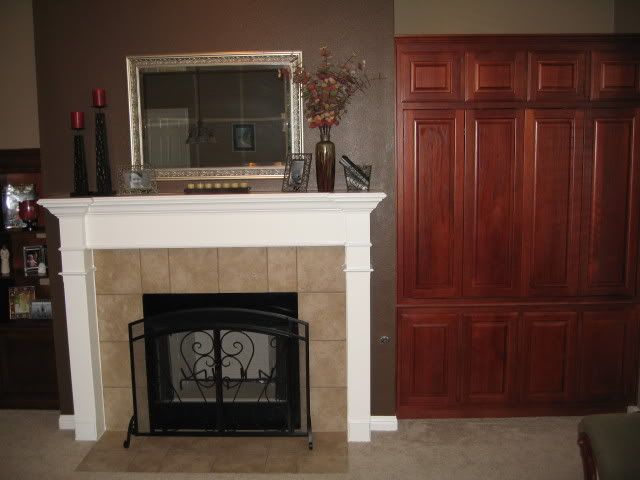 And another view of the fireplace and tv cabinet.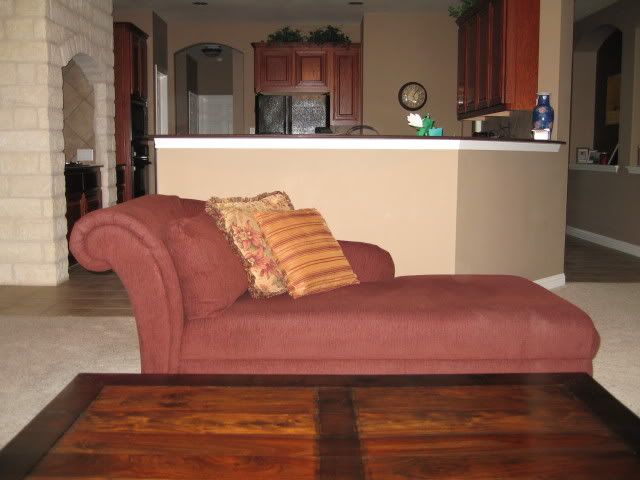 This is looking back into the kitchen from the living room.
Thanks for stopping by!
Whitney
Continuing the "Show Us Where You Live Friday" with Kelly at Kelly's Korner, today is the day to show off the living room. Our living room is definitely where we spend the most time. It's at the back of our house, with windows looking out on the backyard.
So, here's my kitchen!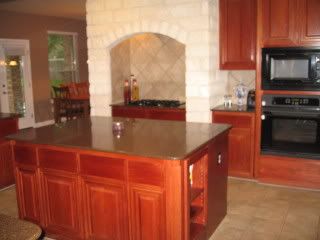 This is from the family room looking back into the kitchen from the other direction: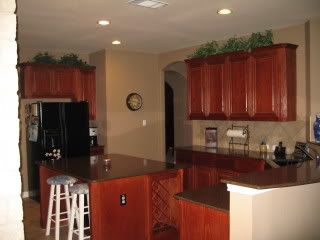 And from another angle: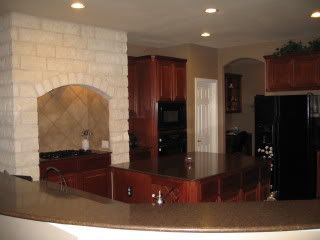 I really love the stone surround on the stove area. It's actually a standard feature with our builder (Village Builders) so most of the houses in this neighborhood have this feature.
And the cherry cabinets - love them!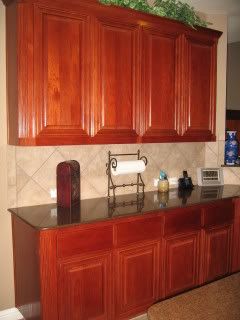 And finally, I had to throw in a picture of our breakfast room because the table is pretty new and we love it. The bench is great for the kids. We eat all our meals here.
Hope you enjoyed the tour!
Whitney
Kelly's Korner (www.kellyskornerblog.com) is hosting a tour of homes and today is the day for kitchens. I haven't posted to my blog in ages but thought this would be fun to participate in.